Background
The Institute for Diagnostic and Interventional Imaging (IDII) was founded in 2010. It was accredited by NWO and ZonMw as one of the eight Centres of Research Excellence (CoREs) of the Innovative Medical Devices Initiative (IMDI, in Dutch). In these CoREs, partners in science, industry and health care work closely together on the development of novel medical devices that improve both the quality and the efficiency of health care.
IDII researches, develops and evaluates image-guided technologies for early detection of pathology and pathophysiology, for reliable diagnostics and prognostics, for patient-specific therapy selection, and for efficient and effective planning, guidance and follow-up of interventions, in the areas of cardiovascular diseases, neurological disorders, and cancer.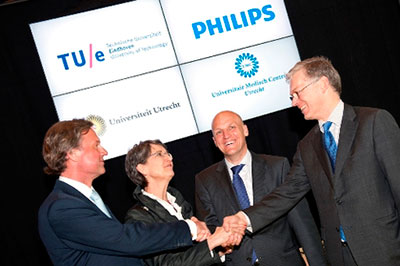 Frans van Houten (Royal Philips Electronics), Yvonne van Rooy (Utrecht University), Jan Kimpen (University Medical Center Utrecht) and Arno Peels (Eindhoven University of Technology) shake hands at the official opening of the Institute for Diagnostic and Interventional Imaging.

Newsletter
Download the IDII newsletter of July 2015 (in Dutch).

Participants